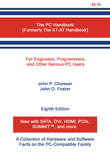 by John P. Choisser and John O. Foster
Orignally titled, The XT-AT Handbook, The PC Handbook has been a must-have for anyone developing with the PC. A reference with hard-to-find technical information about the PC family of computers, this book covers 64 subjects, including I/O connectors, memory and I/O maps, hardware and software interrupts, peripheral chip registers, keyboard scan codes, screen codes, cable connections, and card dimensions.
The new edition adds new technologies such as SATA, USB, PCI Express, HDMI, and DVI. Some older technologies like MFM hard drives, Floppy, and SCSI information have been removed.

Print and eBook Price $9.95
For over 20 years, Annabooks has published some of the leading books covering cutting edge PC technologies, and it all started with this little book…
Here is the original article from InfoWorld May 16, 1988 Page 40 that introduced the The XT-AT Handbook to the world.
Book Details
Publisher: Annabooks; Eighth edition (Jan 2011)
Paperback: 120 pages
Language: English
ISBN-10: 0-9842801-2-X
ISBN-13: 978-0-9842801-2-4
Product Number: AB001
eBook Edition (August 2011)
ISBN-10: 0-9842801-4-6
ISBN-13: 978-0-9842801-4-8