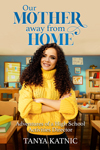 Price: $10.99
by Tanya Katnic

Cassie Greenwood once described her job as Activities Director at Bennington High School in Oakview as a roller coaster ride. There are triumphs and challenges, and the ride can often be bumpy and uncertain. But her life is a good one, surrounded by a cast of characters who journey with her on myriad adventures that often seem to come her way.

Thereís her best friend Ellie, a multi-talented administrative assistant who has a keen insight into life. And Declan, a sophomore, who feels the need to put his personal stamp of approval on all of Cassieís life decisions. Bruno, her second father, offers hugs and support in abundance. Her stern, enigmatic principal, nicknamed the General, runs a tight ship at Bennington and she is shrouded in mystery. And thereís a certain Oakview native who returns to his hometown and warms Cassieís heart with his beach-boy good looks and smile.

But Cassie is unaware of the one adventure that she didnít plan for: the discovery of her birth parents and the revelations it brings.
Will this knowledge enhance or detract from Cassieís already great life?


About the Author
After having taught high school English and journalism for many years, Tanya Katnic traded in her teacherís podium for a writerís desk in crafting this first novel. With her twin sons married and on their own, she lives with her husband and a very overprotective basenji dog in Southern California. Years ago, she was inspired with the title of this novel when a student asked her: ďArenít you supposed to be our mother away from home?Ē



Book Details:

Publisher: Annabooks (May 1, 2021)
Paperback: 211 pages
Language: English
ISBN-13: 978-0-9911887-7-2
Product Number: AB122